by Lynn A. Dralle, 'The Queen of Auctions'
I have always been a big fan of PriceMiner. I met the founder, Jim Kamnikar, for the first time by phone in 2004. He was kind enough to inform his "GoAntiques" mailing list about my first 100 Best Things I've Sold on eBay. I thought that was really nice considering we had never met in person.
So, when Mo and I did get to meet Jim and his staff at their booth at eBay Live in San Jose, I was extremely interested in his PriceMiner service. PriceMiner is a research tool for antiques and collectibles. Jim has gathered data from many sources such as Tias.com, GoAntiques.com and eBay.com and put together one of the best unique item research tools out there.
Jim and I at eBay Live in Boston.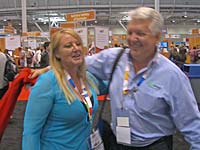 What is great about PriceMiner is that the data goes back several years. Because eBay only lets us see two weeks of completed auction research it isn't very helpful. And, their new service called "Marketplace Research" only goes back 90 days. I got a free trial these past few months because I upgraded to an anchor store. I have tried to use it about 12 times and every time it is down and non-functioning. That never happens with PriceMiner!
Whenever I can't find an item on eBay, Google or Replacements, I can almost always (90% of the time) find it on PriceMiner. This past week, it really became apparent as I was searching though pages and pages of International Silver on Replacements.com to find that pattern I talked about earlier.
Click to see how much it sold for.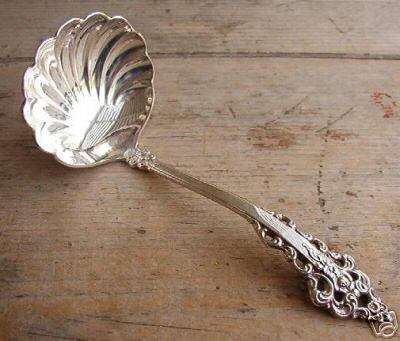 When I search on Replacements, the #1 thing I do is a global search using keywords and hope that the item will come up quickly. Something on the back of this set of silver was a word I had never seen on IS (International Silver). It said DeepSilver. So when I typed in IS and DeepSilver about six patterns came up. But none of them were my pattern. Darn it! This means that I have to go to my Replacements step #2 and bring up the entire International Silver catalog and scroll through the thumbnail photos.
This can and does take HOURS!!! I was getting so frustrated that for the first time–I thought I would see what returned from a global search on PriceMiner.
By the way, the problem with some of these global searches on Replacements is that Replacements only uses a certain number of characters in their descriptions (much like a 55 character title on eBay). So instead of saying Deep Silver they may say DS or not even mention it.
Another example is for Metlox/Poppytrail/Vernon–Replacements uses Metlx/Poppytr/Vernon and they aren't even consistent on this. Another example is with colors and other descriptive phrases, if I type in Corning Peach Floral, Replacements may have it as Corning Orange Flowers. It gets very tricky with these global searches on Replacements because you are not searching both a title and a description like you get to do on eBay or PriceMiner.
So, I opened up PriceMiner and typed in International and Deepsilver. Up came quite a few completed auctions. Not all had pictures, so I quickly scrolled through 3-4 pages and wrote down the 7 different pattern names I found:
Laurel Mist
Delicato
Camille
Rochambeau
Triumph
Anniversary Rose
Countess
Then I headed back to Replacements.com and quickly pulled up each one. #4 Rochambeau was a match!! I just saved myself at least an hour in research!! I got that entire set listed a week ago. I paid $50 for it and quite a bit of it sold for $187.00 on Christmas Eve. And I still have about 12 auctions left to relist in my store at $9.99 each so I will eventually gross over $300 for this set.
I do want to let you know that PriceMiner does charge a small monthly fee. However, that hour saved in research meant that I could list 15 items that will eventually bring me AT LEAST $150. What is an hour of your time worth?
Here is another great way I used PriceMiner this same week. From the same place I purchased the flatware, I also got a crystal egg marked FRANCE. It was on a pewter stand that said 1993 on the base. I was sooo excited. I paid $1 and I thought I had a Baccarat or Lalique piece on my hands. NOT even close.
So, I get on eBay and do completed auction research–Nothing. I Google it–Nothing and too many pages to wade through anyway. I head over to PriceMiner (where I should have gone first) and…..
You guys won't believe this!! I type in Crystal Egg 1993 into PriceMiner and look what comes up:
Avon Majestic Crystal Egg 1993 NR


Sold For: $20.00 USD - Date: 1/14/2006 9AM - Channel: Online Auction - Source: eBay
Category: Contemporary Collectibles - Original Category: Collectibles : Decorative Collectibles : Avon : Other Avon Items
All Avon items listed are from a former (20+ year) District Manager. Thank you for your interest, this item (pictured above), is… Avon Majestic Crystal Egg from 1993. Beautiful 24% lead crystal egg is 3" high and has a beautiful pewter stand which is 1-1/2" high. No Reserve! NOTE: If you have ANY questions not answered, please check with me before placing your bid. Thank you! All items are sold As Is. No returns. No refunds. Quoted part of description is from Bud Hastin's 16th Edition Avon Collector's Encyclopedia, and is (c) 2001 Bud Hastin.
Oh crud! I had an Avon egg. But I didn't waste hours and hours researching losing more valuable money in the process. PriceMiner is a winner and I encourage you to all check it out.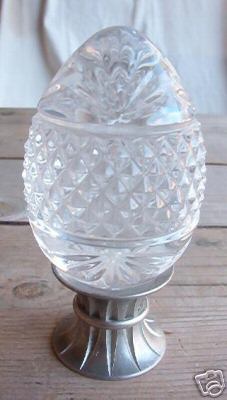 By the way here is my Avon egg's photo and you can click to see what it is selling for. I am sure I will get at least $10 for it–not bad on a $1 investment. Although, I was hoping for a $1,000 Baccarat egg!
And here is some great news… Jim is going to give away a 2 year PriceMiner subscription to one of our lucky ezine subscribers. The link to sign up for the drawing will be in the next ezine.
Happy New Year!!!
Here's to a very successful 2008 on eBay and off!
Happy eBaying!
Lynn